Executive
PETER SCHAFFER
President
KENORA, ON
Send an email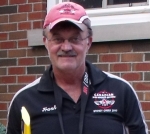 FRANK KLENK
Vice-President
TILLSONBURG, ON
Send an email
R/C flyer and builder for 25 years +. My planes vary. Some fast, others slow, scale and non. I pretty much enjoy flying anything with an engine. IMAC style of flying has taught me the most and it is a lot of fun. Engine collecting is something else I really enjoy and it keeps me busy over the long winter months. Indoor flying I enjoy and prefer it over a simulator. Smile, have fun and see you in the pits.
JEAN PAUL LE GUILCHER
Executive Committee Member
BAIE COMEAU, QC
Send an email
My love of airplanes comes from my dad who was an aircraft electrician for Air France a long time ago. He showed me how to build small stick and tissue models when i was young.

The RC bug bit me in 1977 and ever since i've been building and flying airplanes. I'm mostly interested in big ¼ scale models of WWI, Biplanes of the 30's or Cubs on wheels, skis or floats.

My home town is Baie-Comeau, a 5 hour drive north of Québec city, along the St-Laurence River. I'm also a member of the local "RC Manicougan" club since 1977 and along the years have been president, vice president or secretary.

Three years ago I was nominated as assistant zone director and last year I graduated to deputy zone director. Finally, this year i am replacing Rodger Williams as zone director for Québec zone (I) as he has become MAAC president.

Be assured that i will always promote the great benefits of belonging to an organisation such as MAAC'

Safe flying everyone!
KEVIN McGRATH
Executive Committee Member
SAULT STE MARIE, ON
Send an email
I am a life long modeler and remember building stick and tissue models as a child.I went through free flight and then U control,and have been active in R/C and a member of MAAC since the late 1960s. I spent many years in the pattern wars,but today my preoccupation is giant scale models both full competition scale and scale aerobatic,and I do some float flying and have been flying a three Metre glider lately. I am originally from Montreal,have lived in several provinces,and travelled extensively in Canada and the U.S. during my career in corporate sales with one of the major steel producers,from which I am now retired. I have been married to Pat(Ne Murielle lise Claudette Proulx) for more than forty years and have her total support in the pursuit of this great hobby/sport,especially since I became a zone director six years ago. I have served on the executive of MAAC for three years and am currently the Vice President of the Corporation and the zone director for Northern Ontario. We live in Sault Ste Marie and I am a proud member of the Soo Modellers Club home of the famous U.G.L.Y meet each spring.
GEOFF STROTMANN
Executive Committee Member
OXFORD STN, ON
Send an email